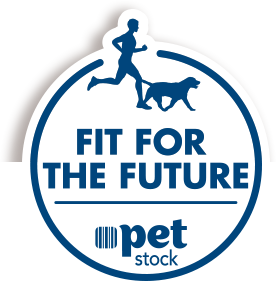 #petspiration
Welcome to the landing page for Fit for the Future. This is your go to page for all videos, documents and information.
Fit for the Future is a health and wellbeing program that aligns with our company values. We envisage this wellness program continuing well into the future of all team members and their families.
Team member's journeys will be goal orientated – remember goals may not be to run a marathon but maybe you have always wanted to join a team sport, try yoga, walk the dog every day, give dancing a shot or get the family out once a week to kick the footy. All of these goals have positive impacts to the mind, body and soul helping us to be 'Fit for the Future'.
There will be a series of competitions throughout the program offering you the chance to win your part of the $1,500 prize pool!
Competitions will be based on participation and creativity and judged on the images you share on Instagram, this page and Yammer. The trick is to always use #petspiration
Team Members from across the entire network have been bought on board to help you along your journey. Your "Fit Stars" are here to encourage you, give you helpful tips & tricks and organise local activities for you to all get involved in. You can meet them each below!
Enjoy the journey - we can't wait to be part of it with you!

Aimee Whelan, Accounts

Ballarat Office and VIC West Fit Star

Mel Johnson, 3PL and Private Label Buyer

Ballarat and South Melbourne Office Fit Star

Sam Corbett, Marketing Data Analyst

Ballarat Office Fit Star

Kate Weller, Retail Support South Australia

SA Office Fit Star

Scott Willis, WA Area Manager

WA Fit Star

Rebecca Rundle, Senior Buyer

VIC Fit Star

Heather Baird, Pet.co

NZ Fit Star

Luke Koenen, PETstock Constellation Drive

NZ Fit Star
The PETstock Fit for the Future Program aims to improve the health and wellbeing of all PETstock team members. Involvement in the program is voluntary and team participation in the program is not a company enforced expectation. All activities completed in association with the program should be completed outside of work hours at the discretion of the individual, unless otherwise directed by PETstock. PETstock, its associated agencies and companies and the agencies and companies associated with this activity will not be liable for any loss, expense, damage, personal injury or death which is suffered or sustained (whether or not arising from any person's negligence) in connection with this activity or accepting or using a prize, except for any liability which cannot be excluded by law (in which case that liability is limited to the minimum allowable by law).
By utilizing hashtags related to PETstock social media topics (including but not limited to #petspiration) you irrevocably grant PETstock permission to utilize your posted content and likeness in social channel postings in the social network of origin as well as any other social networks owned or maintained by PETstock
All social media interactions used in conjunction with the PETstock Fit for the Future program or the #petspiation hashtag should be used in accordance with PETstock's code conduct and social media policies surrounding how PETstock team members interact with social media on work related matters.
Code of conduct: https://c983682.ssl.cf2.rackcdn.com/Code%20Of%20Conduct%202.%2027.04.15.pdf
Social media policy : https://c983682.ssl.cf2.rackcdn.com/Social%20Media%20Policy.pdf