Have you heard of coccidiosis? Coccidiosis is a fairly common gastrointestinal parasitic infection in young puppies and kittens.
I guess you're wondering how your pet can get such an infection? Well, an infected dog or cat passes oocysts (immature coccidia) in their faeces. Under the right conditions of temperature and humidity, these oocysts become infective. Puppies and kittens can then be infected by swallowing the parasite either from infected stools or by eating another animal or insect (e.g. mouse, cockroach) that is carrying the parasite.
Young dogs and cats are most at risk of developing coccidiosis as they have immature immune systems. Those housed together in kennels, catteries and animal shelters are also at increased risk of being infected.
Because pets are infected by swallowing the parasite it is important to remove stools as quickly as possible so that the pet's environment does not become contaminated.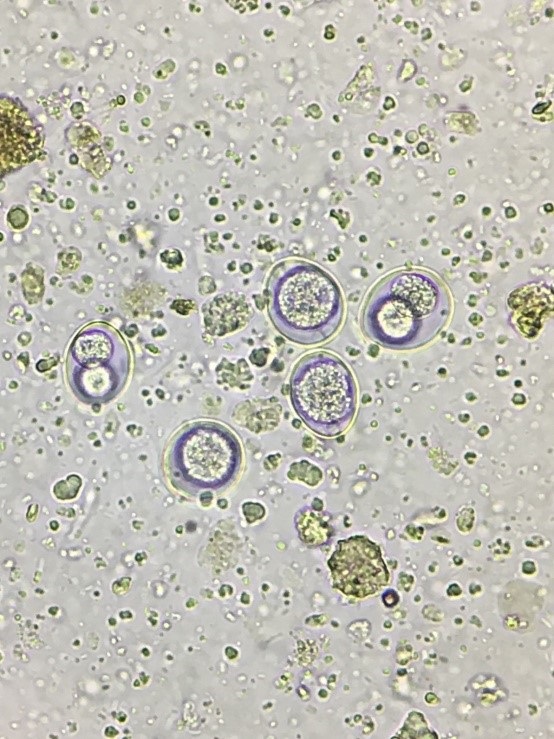 These are microscopic coccidial oocysts in a faecal sample
Once infected, the parasite can destroy some of the cells lining the bowel which, over several days, can lead to vomiting and watery diarrhoea. In some cases, the diarrhoea may be bloody or also contain mucus. However, in other cases, infected pets can appear normal and may not show any obvious signs at all!
This is why taking your puppy or kitten to your local PETstock VET for a free health check is important, as coccidiosis may be picked up with a test called a faecal float.
If your pet is infected,this test will reveal the microscopic coccidial parasites in the faeces, as you can see in the image above.
In fact a faecal test is a good idea for any puppy or kitten whether there are signs of diarrhoea or not, as young animals are not only at greater risk for coccidiosis, they are also at risk for other parasites such as hookworms, roundworms and tapeworms.
If coccidiosis is detected, your PETstock VET will prescribe some medication and will also discuss good hygiene protocols with you including removing any faeces as quickly as possible from the environment to prevent re-infection.
Changing to a special diet such as Hill's™ Prescription Diet™ i/d™ may also be recommended. This would provide a complete and balanced diet for puppies and is specially formulated to support digestive health.
Longer term, it is important to provide puppies and kittens with the best nutrition possible such as Hill's™ Science Diet™ Puppy and Kitten foods so they can grow and develop well, be healthy and happy, and live as long a life as possible.
Find your nearest PETstock VET here
Dr Delisa Appleton BVSc (Hons) PhD.
Professional Consulting Veterinarian, Hill's Pet Nutrition.
Delisa graduated from the University of Queensland with honours in 1987 after which she worked in mixed and small animal veterinary practice for 7 years before commencing work in the nutrition industry. She then returned to the University of Queensland to undertake research into nutritional aspects of obesity and diabetes in cats and was awarded a PhD in 2004. She is currently employed as a Professional Consulting Veterinarian with Hill's Pet Nutrition.
Hill's™, Science Diet™ and Prescription Diet™ are trademarks of Hill's Pet Nutrition, Inc.
© 2018 Hill's Pet Nutrition Pty Ltd.