Your Royal Cuteness
Introducing the Royal Dogs and Ponies Who've Charmed Their Way into Our Hearts
This year's Queen's Birthday public holiday honors the 90th birthday of Queen Elizabeth II, it also gives us a good excuse to talk about the pets living royal lifestyles across the globe. From the Corgi's of Queen Elizabeth II to Mary, Crown Princess of Denmark's Border Collie; it goes to show that no one is immune to the charm of pets and the privilege that comes from being a pet parent, even for some of the most privileged of us all!
Queen Elizabeth II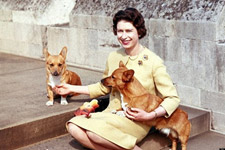 Photo Credit: Huffpost Good News
Mostly associated with the very cute Corgi dog breed, the Queen has owned more than 30 since the beginning of her reign in 1952. Her first Corgi, Susan, was an 18th birthday gift and many of the Corgi's who followed were Susan's descendants. Today, the Queen is a proud pet parent to four royal dogs – Holly, Willow, Vulcan and Candy.
Queen Elizabeth II is also widely known for her interest in horses. Having owned many successful event and show horses over the years, Her Majesty is also a keen rider. Peggy the Shetland pony was one of the first, gifted to her and her sister Margaret on her fourth birthday from the King. Recently, 900 horses participated in a gala concert for the Queen's 90th birthday celebrations.
Camilla Duchess of Cornwall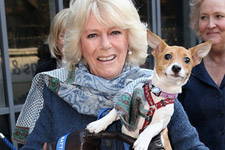 Photo Credit: Daily Mail
Camilla Duchess of Cornwall is an animal lover with a strong interest in horses and is the proud owner of two royal dogs, Jack Russel terriers Beth and Bluebell.
Introduced to the Duchess on a visit to Battersea Dogs and Cats Home where she was opening a new cattery, Her Royal Highness adopted Beth and Bluebell in 2010. The Duchess also takes pride in supporting many animal welfare organisations, including becoming President of the Brooke Hospital for Animals in 2006. The Brook operates across the globe providing advice for owners and free veterinary care for horses and donkeys.
Zara Phillips
Photo Credit: The Telegraph
Although she is without an official royal title, Zara Phillips is the second eldest grandchild of Queen Elizabeth II and Prince Phillip. Zara is an accomplished equestrian and has competed worldwide. Her most well-known horse was Toytown, whom she tearfully and officially retired in 2011 after a successful career together. In 2012 she rode High Kingdom to silver success in the London Olympic Games, where she was presented with her medal by her equally famous equestrian mother, Princess Anne.
Mary, Crown Princess of Denmark & Frederik, Crown Prince of Denmark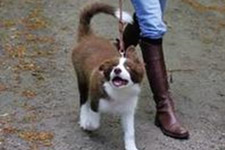 Photo Credit: The Sydney Morning Herald
Our own homegrown princess is just the same at heart as the rest of us pet lovers – she can't live without her beloved Border Collie, Ziggy. The perfect reminder of her Australian origin, Ziggy is believed to have been gifted to Princess Mary and Prince Frederik in 2005. Ziggy has now become part of the Danish Royal Family, even appearing alongside Prince Christian in photographs to mark his 10th birthday last year.
Princess Grace of Monaco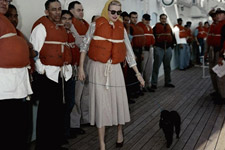 Photo Credit: The Royal Post
One of the most famous royal figures, Princess Grace of Monaco or Grace Kelly as she was formerly known, enjoyed the company of many Poodles! The princess arrived in Monaco by ship before her 1956 wedding to Prince Rainer, clutching a black poodle named Oliver, gifted to her by an American friend and co-star, Cary Grant.
William & Kate, Duke & Duchess of Cambridge
Photo Credit: Daily Mail
Lupo is the very famous Cocker Spaniel family member of the Duke and Duchess of Cambridge. Having appeared in many portraits alongside their human children Prince George and Princess Charlotte, Lupo has been part of the Royal Family since 2011. Lupo is a descendant of the Duchess' parent's dog, and was given to the family by Mr. and Mrs. Middleton as an early Christmas gift.
While there are many factors that separate royal identities from the rest of us, it is no surprise that the love of pets knows no boundaries. As most of Australia celebrates the Queen's Birthday public holiday this weekend, take a moment to consider how you can make the life of your pet a little more royal – and maybe enjoy a piece of cake in Queen Lizzie's honor, too!
Article Sources: