Next Episode: Saturday 3:30pm, on TEN



Bupa Pet Insurance is general insurance issued by the insurer The Hollard Insurance Company Pty Ltd (ACN 090 584 473; AFSL 241436) (Hollard), is promoted by Bupa HI Pty Ltd (ACN 000 057 590; AR 354269) (Bupa) and administered by PetSure (Australia) Pty Ltd (ACN 075 949 923; AFSL 420183 (PetSure).
Teaching your Puppy How to Jump Through a Hoop
What we learnt on Puppy Academy: Week Seven
Jumping through a hoop is a really fun trick! It's also a great gateway command if you are interested in training your puppy in agility later on. Agility training is a great way to mentally and physically stimulate your dog – especially working breeds like kelpie's and collies.
It's essential to keep in mind though that your buddy is still growing and will NOT be ready to jump higher than approx. 20cm until they are over one year old. Larger breeds, such as Rottweilers, Labradors, will not be ready to jump higher until they are over 18 months old. Jumping too high at a young age can cause injury to your puppy's joints and muscles.
Tips for Teaching Your Puppy How to Jump Through a Hoop
Hold the hoop at a right-angle to a wall or fence. The hoop should be low enough to almost be resting on the ground. If possible, get someone to hold the hoop for you as it will make it easier for you to lure your puppy through the hoop and give the command.
Ask your dog to sit or stand on one side of the hoop.
Lure your puppy through the hoop with a treat or a toy – you can also use a lead for this exercise if necessary – make sure it doesn't get tangled!
As soon as your puppy lift his feet to walk through the hoop say the word 'through' and reward your puppy with lots of praise and treats!
Repeat the exercise. After your buddy has grasped the command, gradually move the hoop a little higher off the ground. Remember the hoop SHOULD NOT be lifted higher than 20 centimeters.
Only practice against a wall or fence, until your puppy is comfortable to try in an open space.
Keep practicing until you can ask your puppy to jump through the hoop without a lure, and always remember to offer plenty of rewards!

Trainer Tash
We are excited to introduce Tash, our Puppy Academy Trainer who will take charge of the class of 2016. With over 4-years' experience training dogs and puppies, Tash is one of PETstock's leading trainers.
Do you have a question about training your pooch?
Ask Tash a question...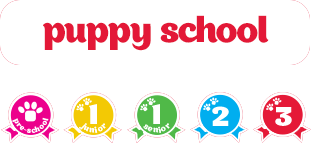 PETstock offers a Puppy School program with a range of different levels for puppies and older dogs. Find out more about PETstock Puppy School and what we teach in these training classes.

PETstock's Puppy Academy Competition - Terms & Conditions
The PETstock Puppy Academy Competition is open to Australian residents only aged 13 years and over excluding employees of PETstock or any other company linked to the competition in any way. By entering the Competition, you are agreeing to these terms and conditions.
To enter, entrants must share a video of themselves and their dog trying one of the Puppy Academy tips below the appropriate Facebook posts on the PETstock Facebook page at www.facebook.com.au/PETstock.
Promotion begins at 3pm AEST on Tuesday 26th July and closes at 11.59pm AEST on Sunday 11th September 2016 (promotion period).
There will be 7 x educational videos posted weekly to the PETstock Facebook page beginning Tuesday 26th July, each showcasing a new tip. Each educational video allows one entry per Facebook user.
Entrants will be judged weekly based on the use of the Puppy Academy tip to teach their dog a new command.
PETstock accepts no responsibility for late, incomplete, incorrectly submitted, corrupt or misdirected entries, claims or correspondence whether due to error, omission, alteration, tampering, deletion, theft, destruction, transmission interruption, communications failure or otherwise.
PETstock will record all entries and winners will be selected based on a set judging criteria following the promotion period by Friday 23rd September. PETstock's decision is final. The Promotion is a game of skill and entering competition does not guarantee a prize.
There are 7 x prize packs to be won. Prize packs include:

PETstock Puppy School Voucher valued at up $100
3kg bag of Hill's Science Diet Puppy Food, valued at $42.99
Bravecto flea & tick chewable, valued at up to $72.99
3 months' free insurance when purchasing a new annual Bupa Pet Insurance policy, valued at up to $120 based on an average annual premium is $480.

Bupa Pet Insurance is general insurance issued by the insurer The Hollard Insurance Company Pty Ltd (ACN 090 584 473; AFSL 241436) (Hollard), is promoted by Bupa HI Pty Ltd (ACN 000 057 590; AR 354269) (Bupa) and administered by PetSure (Australia) Pty Ltd (ACN 075 949 923; AFSL 420183 (PetSure). Bupa acts as an authorised representative of PetSure. The 3 months' free voucher will apply to the purchase of a new annual Bupa Pet Insurance policy only. The discount will be spread over the course of the first year and deducted from the standard monthly payment. This offer cannot be used in conjunction with any other offer from Bupa Pet Insurance. Voucher is valued at approximately $120 based on the average retail premium of $480 per annual insurance policy as at 26.07.16. Actual amount may vary depending on variables such as age, breed and species of pet. Terms, conditions, waiting periods and exclusions apply to Bupa Pet Insurance policies, please see Product Disclosure Statement available at bupa.com.au/pet-insurance for details.
Winners will be contacted via Facebook and asked to supply postal details for prizes to be sent to their nominated address.
The promoter is PETstock Pty Ltd (ABN 80 098 394 588) of 1/300B Gillies Street, Wendouree, Victoria 3350.
The Promoter accepts no responsibility for any problems or technical malfunction of any communication network or for any late, lost, incomplete, incorrectly submitted, delayed, illegible, corrupted or misdirected entries, claims or correspondence whether due to error, omission, alteration, tampering, deletion, theft, destruction, transmission interruption, communications failure or otherwise. The Promoter has no control over telephone communications, networks or lines and accepts no responsibility for any problems associated with them, whether due to traffic congestion, technical malfunction or otherwise. The Promoter is not liable for any consequences of user error including (without limitation) any costs incurred.
The Promoter may, at its sole discretion, declare any or all entries made by an entrant invalid, and prohibit further participation by an entrant in this Promotion, if the entrant:

fails to verify their personal details and/or eligibility to enter the Promotion to the Promoter's satisfaction;
tampers with or benefits from any tampering with the entry process or the operation of the Promotion;
submits an entry which in the Promoter's opinion is not in accordance with these terms and conditions;
acts in a disruptive manner or with the intent to annoy, abuse, threaten or harass any other person; or
engages in conduct in entering the Promotion which in the Promoter's opinion is fraudulent, misleading, deceptive or generally damaging to the goodwill or reputation of the Promotion and/or Promoter. This includes where entrants share receipts or product labels to enter the Promotion or where entrants use multiple names or addresses to register multiple entries.

If for any reason any aspect of this Promotion does not or is not capable of running as planned, including by reason of infection by computer virus, network failure, bugs, tampering, unauthorised intervention, fraud, technical failures or any cause beyond the control of the Promoter which corrupts or affects the administration, security, fairness, integrity or proper conduct of this Promotion, the Promoter may in its sole discretion cancel, terminate, modify or suspend the Promotion, or invalidate any affected entries.
The Promoter, its associated agencies and companies and the agencies and companies associated with this Promotion will not be liable for any loss (including, without limitation, indirect, special or consequential loss or loss of profits), expense, damage, personal injury or death which is suffered or sustained (whether or not arising from any person's negligence) in connection with this Promotion or accepting or using a prize, except for any liability which cannot be excluded by law (in which case that liability is limited to the minimum allowable by law).
The Promoter and its associated agencies and companies will not be liable for any damage to or delay in transit of prizes.
If any are prizes left unclaimed by 30th October 2016, PETstock may conduct an unclaimed prize draw to distribute any unclaimed prizes. The first valid entry drawn will win the unclaimed prize and the draw will continue until all unclaimed prizes have been distributed. This includes but is not limited prizes that are returned to sender due to invalid or insufficient postal details as supplied by entrant.
The information entrants provide will be used by the Promoter for the purpose of conducting this Promotion and may also be used for the purposes specified in the Promoter's privacy policy. The Promoter may disclose entrants' personal information to companies and agencies connected with this Promotion.
Please click here for details of PETstock's privacy policy http://www.petstock.com.au/privacy-policy